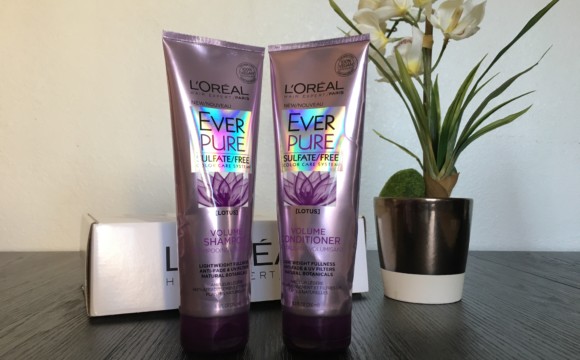 Hi Folks!!!
So I received a new VoxBox from Influenster from L'Oréal it was their new EverPure Volume Shampoo & Conditioner, to try out for free. I was happy to try these products out, as I am always looking for stuff to help my hair. So after opening and reading all the stuff it really caught my attention and couldn't wait to try it out. The care system is sulfate free, which helps your hair follicle and hair growth, it always helps protect your hair color from fading and its lightweight. Reading all this I couldn't wait to try out, I will admit I was skeptical about it.
After two weeks of use I have to say I am pretty impress with the outcome. My hair is naturally wavy but I blow dry it a lot so that had cause a lot of damage to my ends and it being flat all the time. After two weeks of using both the EverPure Volume Shampoo & Conditioner I have gotten so many compliments on my hair. The shampoo smells and feel on my scalp is really good, it smells minty but with the gentle feel on my head. The Conditioner revives my hair and give it bounce without the weight down. My hair looks and feels healthy, which is super important for me. I have been wearing my hair in its natural wavy state and it doesn't feel flat or frizzy like it would have before. I have also blow dried my hair and it feels smooth and also looks very voluminous. It has really made me a believer! I'm happy to have received it and tried it.
L'Oréal has made a new range of shampoos to cater to every hair want and need, I would definitely say give it a try!